ExtravaStopper
Anti-Extravasation Portal Plug for
Percutaneous Shoulder Arthroscopy
The latest in Cannuflow's rich pipeline of innovative fluid management devices, ExtravaStopper is the first portal plug designed to keep irrigation fluid IN the joint, OUT of the interstitial tissue, and OFF the OR floor during shoulder arthroscopy. ExtravaStopper prevents fluid loss from abandoned portals and controls fluid extravasation, even in problem areas like the anterior portal. Simply load this easy-to-use device onto a blunt switching stick to quickly insert it into a portal, then connect it to suction.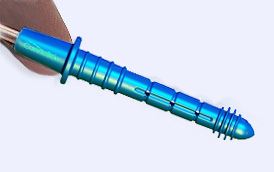 Prevents fluid loss from abandoned portals to maintain good distension throughout the procedure.
Reduces fluid extravasation by continuously draining interstitial fluids, visibly reducing swelling of soft tissues.
Also effectively drains extravasated fluids in problem areas like the anterior portal.
Loads easily onto a 4mm blunt switching stick for placement in the abandoned portal.
Connects to ordinary suction (e.g., to a bucket or Stryker Neptune with standard suction tubing).
Prevents "Bernoulli effect" turbulence that can contribute to bleeding and poor fluid clarity in the joint.
Ensures tissue quality is maintained by preventing interstitial fluid saturation.
"Bookmarks" your abandoned portals.
Keeps fluid IN the joint and OFF the OR floor, meaning less mess and fuss and quicker cleanup.
Other features include:
Distal ribs seal the capsule interface and help hold distension even if the inflow water is shut off.
Soft, atraumatic construction helps prevent tissue trauma.
Incorporates easily into a surgeon's current technique.

"I've been using the Extravastopper since it was released on the market and now use it for every case. It's amazingly simple and effective. I use it for all of the shoulder cases in which I will be in the subacromial space. I have found it very useful for keeping fluid off the floor, which the nurses love, and for controlling extravasation. It is particularly important after releasing the rotator interval to control extravasation. It is striking to see that extravasation actually lessens after I put the Extravastopper in the anterior portal. It is really a great device. "
Nathaniel Cohen, MD
Silicon Valley Surgery Center
Los Gatos, CA
---
You may also be interested in:
Order Information

Product

Quantity

Ref#

ExtravaStopper
(anti-extravasation portal plug)

Box of 10

ESTOP

To place your order or to obtain the contact information for your local Cannuflow sales representative, call our Customer Service Department toll-free at 1-866-484-5400.